After many years looking for the Radio fit for 779.... We now at long last have the Radio's.....  Thanks to http://www.masl-uk.com/ for all there help they have been Fantastic all Serviceable Item's
Also A Big Thanks to Frank Millar for the control box
All we need to do now is get them working in 779.... 
14/08/2011  
Been to try out the Radio kit for size today
It's Still going to take some more looking into before it all work's
well that's the plan anyway.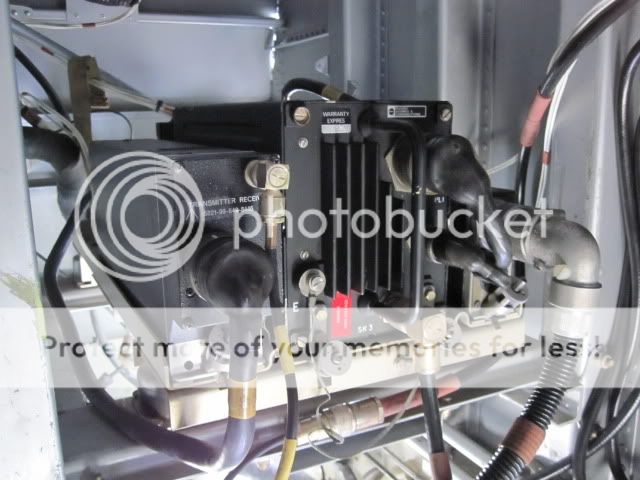 Radio update...... 09/09/2011

As most of you will know we have been working on 779's V/UHF Radios for sometime now


We have been going up week after week trying all sorts and its been a real headache but Thanks to Ron and Ken at http://boscombedownaviationcollection.co.uk/

We now seem to be making progress and we are now hoping the next time we visit 779 we will have the V/UHF Radios working


Photos below show a test I did yesterday with the Pilots Control Panel, Ron has lent me a connector that is wired such that if you connect it to 28v it will light the panel lights, turn on the frequency indicators and allow you to select different frequencies. It is NOT a full test because it does not check that the correct codes are being sent out. It will at least prove that the Control Panel is at least partially working.

The frequency indicators have Not been lighting up in the aircraft so when I did this test I was very happy to see it light up
Ron and Ken have discussed the problem and our Junction Box is mod state 0 not even mod state 1 let alone 2, it couldn't even have been used with the previous generation of radios. The good news is Ken has been digging around in there store and discovered that they have a mod state 2 Junction Box that they will swap for our mod state 0 box, which at least should solve that problem.


 Radio update.....19/09/2011

At last I have some Fantastic news on 779s V/UHF Radios,

After six months hard work and email after email to Ron and Ken at
http://boscombedownaviationcollection.co.uk/ This Sunday 779s V/UHF Radios came to life and we had RAF Waddington zone on all afternoon


I must say a very Big Thanks to all that have Helped out
youtube links.....

http://www.youtube.com/watch?v=Qm7qlcSExq8

http://www.youtube.com/watch?v=uTLibLjs5I4
Pilot's Control Box 



 Navs V/UHF control box