Well after getting WH779 to the Aeropark ok, we set about having a good look around to see how best to go about our project. After having a good look around and making a very long list of missing part's we said to our self's it would be at least two good years before we would have power back on her, It was many a sunday at first getting rid of all the wiring loom's out of the back end that would be of no use anymore.
Also she's had a good clean in & out. As the missing part's start to roll in we fit them back into the cockpit.
This re-fitting of Instrument's is still on going.
2007
Next was the re-fitting of both Ejection seat's, the pilot's seat we did in 2006 rear seat in 2007.
A big Thank's must go-to Julian Warren & Steve Simms that day.....
We now have help form Ronnie, An ex-RAF electrician who worked on Canberras for five years. He is working on her now so shouldn't be to long  before we have the cockpit back to life again. Also I hope to fit the nose wheel this year Good times ahead for WH779.
Ronnie has worked so hard on 779 over this last year, he's now going to take abit of time out has he's been ill hope he's well again soon. In the mean time Julian Warren with over 20yrs experience on aircraft  has taken over from Ronnie and he's doing a great job.
2008
The outside has had a good clean down again & also more of the same Re-fitting more Instrument's
We had to move 779 round to get her ready to lift from the trailer that she's sat on.
On new pad.
Day of the lift...
December 2008
We now have 28v on the cockpit Fantastic all that hard work, now we can look forward to getting all the system's working again in 2009.
Many Thanks must go-to all that have helped with this project
Julian Warren.
Me, Darren Green in the cockpit of  EE Canberra T17,WH740.
Steve Simms.
LOOK'S GOOD............
2010......
We have now fitted the pilot's fan and it work's a treat, will be alot cooler in 779 now on hot days with the nav's fan running as well


Pilot's fan.



Nav's fan.



Also we fitted the Mounting MK.1 for the MK.2 Periscope LOOKS FANTASTIC


Photo below shows the panel were the mounting will go.




Julian like's to take 779 out for a ride from time to time, LOL LOL LOL


Panel out and Julian giving me the bird
He is so rude....




Periscope, Mounting MK.1F


Sextant Periscope MK.2 Update.
WH779  just may be the only Canberra around with a Sextant Periscope MK.2 fitted and working


How the Periscope look's from the outside.




Periscope form the inside.



Looking through the Periscope at the Aeropark's EE Lightning F.Mk53 - ZF588.




Periscope stored away in it's holder.




Fire Glove's now in place, Ex 100 sqn.


we have fitted the Rumbold Seat in 779 looks Fantastic
Must say a Big Thanks again to Timbo for getting this great piece for 779 Cheers pal,

Next time we are up we will fit the Harness that we have for the seat
Nav's Parachute now fitted.




Pilot's Parachute also fitted.




Emergency Oxy bottles now in place.


For my Grandad R.I.P


779 Getting a good clean & wipe over with a mix that Julian & the lad's use on the bucc's at Brunty, that mix is 50% WD40 & 50% Oil, see photo's below for the result's


Before



After



 harness to the rumbold seat now fitted.




 779 ready for the lift on to the new trailer 
Just afew photo's of the lift on to the new trailer 


From Right to Left, Me, Des, Steve, Julian, Adam & a big Thanks to Hazel for taking the photo's Cheers guy's
Update Sunday 13/02/11


Today's 1st job was to make up the last missing Panel in 779


Were missing Panel fits




New Panel in place


Just need's Spraying now.

I also fitted the Elevator Rigging Tool


I Also had one Type 35 controller for the F.95 Camera working
Sunday 27/02/11

That last missing Panel now finished and fitted




The Box I made for the Anti collision light now fitted to 779 and all works a treat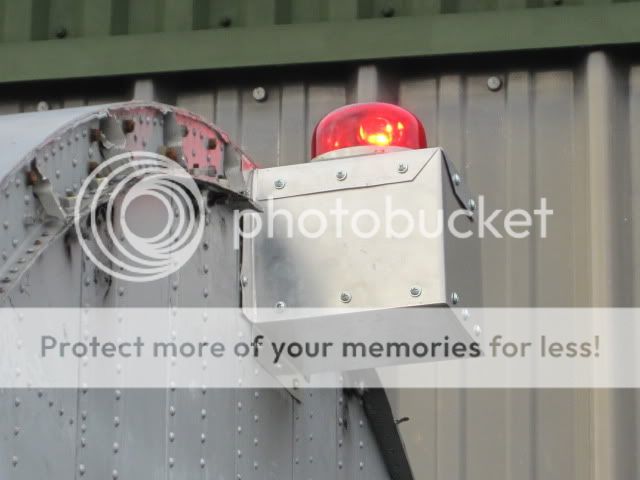 We now have the camera hatch doors open for all to see inside
plus we needed to get to clean the glass on both sides
At long last after many years on the missing parts list Matt has supplied 779 with the curtain that fits above the Nav's panel Cheers Matt


Before




After


 Map holder fitted...




After six years the Nav's panel is now complete now the DME is fitted